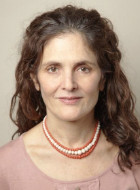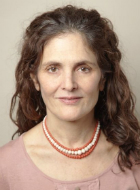 Week-long Fall Meditation Retreat: The Shape of Awake (Weekthun)
Hope Martin
November 11–19, 2017
Tuition $0 + 8 nights
"To take this posture itself is the purpose of our practice.
When you have this posture, you have the right state of mind,
so there is no need to try to attain some special state." – 
Suzuki Roshi
Being upright is not just an arbitrary shape, it's a perfect expression of meditation itself. In this week of intensive practice, Hope Martin, a master teacher of the Alexander Technique, will help you establish ease and non-striving in meditation and everyday activities. Her hands-on work makes subtle adjustments to the head, neck and back to access effortless, balanced posture – both light and grounded.
Principles from the practice of Focusing will be introduced to befriend habitually stuck places and to discover the untapped wisdom that resides in the holding patterns. You will develop awareness of unconscious habits that result in tension, pain, fixed posture and mind-set, and learn to find a more open, expansive and balanced way of being.
This experiential week offers a safe, supportive and caring environment to learn about yourself and to deepen your meditation practice.
Open to new and experienced practitioners. For those on the Shambhala Buddhist path, this Weekthun counts toward one week of Dathun and fulfills a portion of the group practice requirements for attending the Enlightened Society Assembly, as well as Shambhala Guide Training requirements.
Please note: Hemera Scholarship distribution is closed for 2017. However, we will continue to accept applications. In the event of a scholarship cancellation, new applicants will be contacted based on order of application and eligibility. Learn more here.
Blog Post: Hands of Hope: The Possibility of Bodily Ease in Sitting Meditation
By Travis Newbill
A few years ago, my experience of sitting on my meditation cushion was changed in a dramatic, simple, and sustained way, when Hope Martin placed her hands on my spine for just a few minutes. Over the past three decades, countless students have had similar experiences, as she has gained a reputation for being a profoundly sensitive, intuitive body-worker as well as a gentle and brilliant meditation teacher in the Shambhala tradition.
As she says, what she offers is highly experiential.
In that space with her, a shift occurred: emotionally, in the body, in the mind. It was profound. I flash on that experience just about every time I sit to meditate, and the body, remembering Hope's hands, relaxes into a dignified posture.
The experience is elusive, and better to be experienced personally than described. But, hearing Hope speak about her work, along with some clips of a recent session I had with her (lucky me!), may bring it to life a bit more.
Please enjoy this short video, and may the hands of Hope be with you.
Hope Martin has taught the Alexander Technique for 33 years, trained Alexander teachers for two decades at the American Center for the Alexander Technique, and operates Hope Martin Studio in New York City.  She is a Meditation Instructor, Focusing trainer, and a close student of Pema Chodron. Her particular passion is in helping her students discover how easeful, upright posture is an expression of their human dignity, confidence, and innate wakefulness. To learn more about Hope's work, visit hopemartinstudio.com and read her article co-authored with David Rome,  "Are You Listening?" published in the Shambhala Sun.
Financial aid is available for this program.