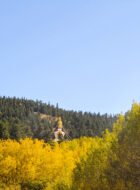 Extended Thanksgiving Retreat & Renewal
November 25–28, 2021
Tuition $150 + 3 nights
Discover relaxation and wakefulness in our pristine mountain environment. Our Retreat and Renewal programs offer contemplative approaches for working with the fullness of daily modern life, bringing insight and inspiration to career, family, health, relationships, and personal endeavors of all kinds.
Join us for a spacious retreat that allows time to walk the land, circumambulate the Great Stupa, or follow the spontaneous callings of your spirit. Meet other participants over tasty meals (vegetarian options available). Join in part or for all of the scheduled activities: meditation (with instruction), yoga, visiting the Great Stupa, and evening activities. Great for friends, couples, or individuals. 
Click here for a sample weekend schedule. 
Thanksgiving Dinner will be served at 4 p.m. on November 25th. We ask that you arrive at SMC before 4 p.m. to ensure ample time to settle into your accommodations prior to Thanksgiving Dinner.
We're delighted to have you as our guests – let SMC do the cooking this year!
No alcohol will be served at this event.