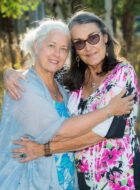 Courageous Women Fearless Living: A Retreat for Women Dealing with Cancer | Healing, Connection and Laughter – 2021 Virtual Retreat
Judy Lief, Linda Sparrowe, Chasse Bailey-Dorton, Jemi Steele, Ann Braden and Natalie Pascale Boisseau
September 10–11, 2021
Prices
Sliding Scale – $50.00 to $150.00
This virtual retreat brings together ancient wisdom practices and modern-day knowledge to create a healing environment that supports and empowers women who have been touched by cancer. Whether you have had a recent diagnosis or you are caring for someone who has, you will find tremendous benefit through connecting with others.
Cancer is one of life's greatest challenges and we don't want you to face this journey alone. Now, more than ever, we need to connect and reconnect with others facing the cancer journey. Our extraordinary team of experts are courageous cancer survivors who have direct

experience with fearless living.
What to Expect in this Online Gathering:  Healing, Connection & Laughter
We'll share wisdom in integrative medicine, yoga, mindfulness practice, and healing meditations. By integrating body, mind, and spirit, individually and collectively we aim to discover ways to meet the totality of our experience directly and courageously. Please join us on this transformative journey.
About Us
Since 2006, Courageous Women Fearless Living has been holding annual, five-day retreats at Shambhala Mountain Center. For more information about this program please visit the Courageous Women website.
This year, for the safety and protection of our attendees, we offer this virtual retreat. We look forward to connecting with you!
,,,,
Schedule (Shown in Mountain Standard Time)
Friday, September 10:  5:00 pm – 7:00 pm
Saturday, September 11: 10:00 am – 2:00 pm
,,
About Your Guides