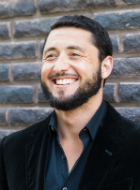 Beyond Suffering: Unconditional Self Love, Mindfulness Meditation & Qi Gong Retreat
Blake D. Bauer
May 15–17, 2020
Tuition $335 + 2 nights
Note: This retreat has been cancelled due to the coronavirus pandemic. The same retreat is being offered later later this year from August 21st-23rd and from December 4th-6th. The presenter is also working on an online option. Check back for updates, or sign up for our newsletter.
Join international bestselling author Blake D. Bauer to discover why suffering, anxiety, depression, addiction, and illness are logical cries from your body, soul, and subconscious mind asking you to finally value, accept, forgive, honor, and be true to yourself now.

The weekend will include mindfulness meditation and Qi Gong healing exercises designed to unlock the stuck energy, blood, and emotion keeping you unhappy, sick, or trapped. This retreat will offer a safe environment to face your core fears, transform negative thinking, and move forward with your life purpose. It will help you understand how to trust yourself, feel worthy, stop hurting yourself, and finally enjoy your life without regret and without feeling guilty for wanting to be happy, well, and loved.
In this retreat, learn practical skills to:
 Identify & heal the root cause of illness, anxiety, insecurity & depression
 Stop making yourself wrong
 Train your mind to find peace
 Heal past wounds & traumas
 Heal your inner child
 Transform your limiting beliefs
 Clarify your direction forward
 Live more fully in the present
 Unlock stuck energy, blood & subconscious emotion that is making you sick, unhappy or frustrated
 Forgive yourself & others
 Fulfill your life's purpose
 Transform your relationships
 Reconnect with your infinite, intelligent & capable self
 Come home to the source of peace & love within
 Revitalize your physical body & health
 Stop blaming or punishing yourself
 Overcome self-doubt
 Stop pretending to be happy or someone you are not
The weekend retreat is based on Blake D. Bauer's book You Were Not Born To Suffer, which became the #1 Best-selling Spiritual Title in Australia multiple times and remains one of the top-selling spiritual and self-help books worldwide.
A Note from Blake Bauer:
Dear Potential Guest,
The Shambhala Mountain Center and I would like to offer a heads up about the schedule of this retreat. This program often runs late on Friday and Saturday evenings, sometimes until 10:30 or 11:00. The reason for this is that we cover a lot of ground during this retreat and I like to offer as much support as possible so you can 1) transform what you need to while at the retreat and 2) return home with very effective and practical tools with which to reshape your health, relationships and quality of life overall.
I look forward to sharing the weekend with you if you attend.
Very warmly,
Blake D. Bauer
Blake D. Bauer is the author of the international bestselling book You Were Not Born To Suffer. He has helped thousands of people around the world who could not find lasting solutions from conventional medicine, psychiatry, or religion. Blake has an extensive background in psychology, alternative medicine, nutrition, traditional healing, mindfulness meditation, and qi gong. Based on both his personal experience overcoming deep suffering, addiction, and adversity, as well as his professional work with over 100,000 people worldwide, his teachings integrate what he's found to be the most effective approaches to optimal mental, emotional and physical health.