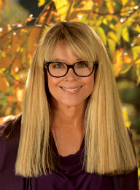 Bridges to Beyond: A Grief Healing Workshop
Sue Frederick
September 9–11, 2016
Tuition $205 + 2 nights
Transformative Grief-Shifting
If you've ever lost someone you love, this transformative grief-shifting workshop will rock your world. You'll learn meditations and sacred practices that give you a direct conversation with your departed and a deep understanding of your soul agreements—even painful ones. You'll feel the relief that comes from a heart-opening meditation technique and you'll understand why you're here and what your soul's great mission is. Your loss is meant to fuel your greatest work and Sue Frederick is a master at illuminating that path for you.
This healing retreat will draw on Sue Frederick's bestselling book, Bridges to Heaven: True Stories of Loved Ones on the Other Side (chosen as one of Aspire Magazine's top ten most inspirational books.)
Several attendees will receive brief personal reading from Sue, a lifelong intuitive. At the conclusion of this powerful weekend, you will leave with direct experience of the soul presence of your departed, a fresh new perspective on your pain, and a meaningful plan for a brighter, happier future.
Interview with Sue Frederick
Blog Posts by Sue Frederick
Sue Frederick is the author of Your Divine Lens, Bridges to Heaven: True Stories of Loved Ones on the Other Side, I See Your Soul Mate, and I See Your Dream Job (St.Martin's Press). An intuitive since childhood, Sue has trained more than 200 intuitive coaches around the world. Her work has been featured in the New York Times, CNN.com and Yoga Journal, among others.
Through Sue's work with thousands of clients, she's learned that everyone is capable of lifting the veil and feeling the direct healing experience of their departed loved one's presence. Sue believes that seeing and talking to your departed loved ones is not only possible but necessary in order to heal your pain and live your most meaningful life. Her work reveals the gift of loss and how it's designed to fuel your greatest work.