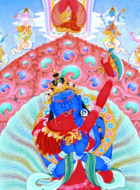 Chakrasamvara: Amending the Mantra Fire Puja
Marybeth Keigher
April 27–May 6, 2023
Tuition $75 + 9 nights
Plus $75 Materials Fee; Please note: Registration closes April 14
Come gather around the fire, and join in rousing the potent energy of
Chakrasamvara, Vajrayogini and the Lineage.

Drala Mountain Center and the staff of Amending the Mantra Chakrasamvara Fire Puja invites you to join in making the Fire Puja Offering at the land the Vidyadhara chose for us to come together and practice. This is an opportune time to connect with our Lineage, deepen our generosity and receptivity and extend outward to benefit all sentient beings.
;;;
Pre-Requisite:  This program is open to practitioners who have completed the Chakrasamvara Mantra requirements.
Arrival: Thursday afternoon, April 27, 2-5pm
Departure: Saturday, May 6, after Clean-up and Lunch
This program will be held at the Red Feather Conference Center. Please register as soon as possible to assure we have enough participants for Fire Puja to take place. Full attendance is required. If you have questions about the program content, feel free to reach out to Marybeth or Greg (emails below).
Abundant Lungta to you all,
Fire Puja staff
Director: Marybeth Keigher, mkeigher3166@gmail.com
Chopons: Maria Aszatlos and Denise Kilshaw
Coordinator: Greg Smith, gregpsmithster@gmail.com
;;;
Note:  Lodging rates have been reduced to reflect the length of this program. 
Puja Director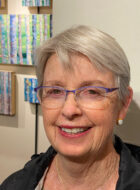 Marybeth Keigher, has been a student of Chögyam Trungpa Rinpoche since 1970. She received Chakrasamvara abhisheka in 1985 and has enjoyed leading numerous fire pujas. Marybeth is a practicing acupuncturist since 1992.